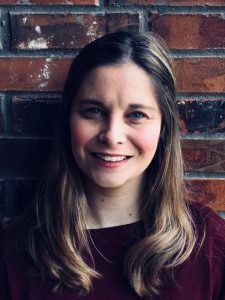 Rev. Candice Richey Womack, Pastor
Candice graduated from Baylor University with a Bachelor of Arts in Spanish. She then received a Master of Arts in Spanish from San Diego State University. Following a few years of teaching and in youth ministry, Candice earned a Master of Divinity from Fuller Theological Seminary. She also completed 4 units of Clinical Pastoral Education as a Resident Chaplain. Beyond church ministry, Candice has worked as a program coordinator in the areas of language literacy and vocational readiness for non-profit organizations in California and North Carolina. She is a board certified chaplain with the Association of Professional Chaplains.
Born and raised in San Diego, California, she eventually made her way to the lone star state in college and then found herself drawn back to its food, people, and southern "y'all" time after time. She met her husband, Tyler, in Houston and they married in 2015. Together, they dote on their son, born in 2017, and share a love for theology, arts, and traveling. Candice has a passion for community, education, and faith formation. She began her ministry with United Presbyterian Church in 2018.
Heather Lind, Family Ministries Coordinator
Pat De Mayo, Administrative Assistant